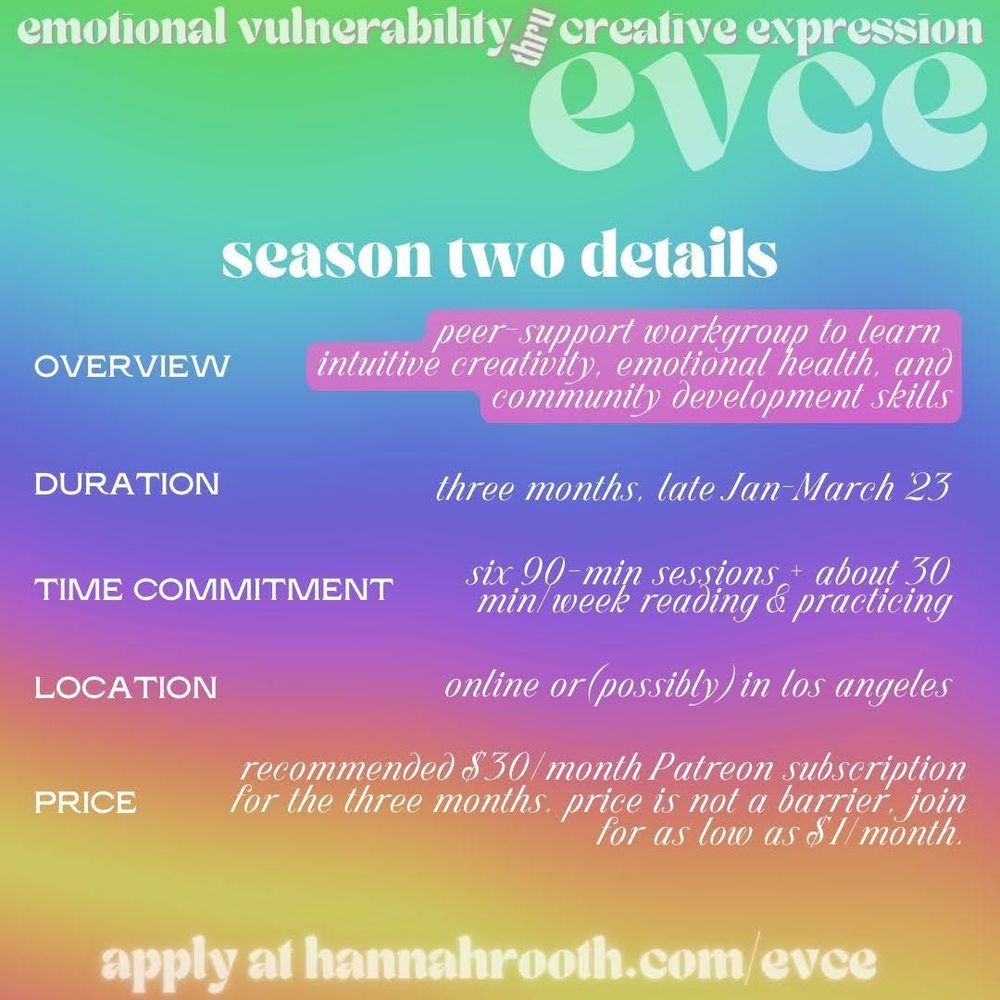 faq
Do I need to be an "artist" to do this program? 
This program is for anyone who is interested in using an artistic method to create. That could be music, visual art, written work, dance, etc. You don't need to consider yourself skillful or professional to reap the full benefits of this program. You just need the desire to get more in touch with your creative side. 
Do I need to know about "emotional skills" or "intuitive creating" to participate? 
No, you don't. Our first sessions will be interactive education on the skills we'll use and discuss throughout the program. 
What do you mean by "peer support workgroup"? 
I am leading this group first and foremost as a peer. I am not a therapist or an 'emotional healing' or 'recovery' professional. I'm a fellow human with a deep interest in these topics and the capacity to create space for us to grow together. This means that you are encouraged to come into the program bringing your full self, your skills, your knowledge, and your input into our sessions and our process. While foundational topics and methods will be provided in every session, we will co-create much of the program together, choosing how we utilize discussion, meditative, creative, and educational methods through a process of group collaboration and consent. Particularly for this inaugural season of the program, you will be creating this experience in tandem with the other applicants and I.
Do I have to share my creative artwork in order to be in this group? 
There is one session (the fifth) in which we will each practice "performing" or "presenting" our art. How the presentation is approached is up to you. We do ask that you present or perform in some way as an act of solidarity and trust building with the other group members. This will be a small group - no more than six people total.
How much of my time will it take to participate? 
This group lasts for three months. The time commitment is one 90 minute session every two weeks, and a minimum of ~30 minutes of personal creative & educational time every week. 
Can I miss a session? 
This is an intimate peer-support group in which each session builds on the last. We ask that you come in fully committed to attending all sessions. This is to help facilitate a setting of trust and reliability as we all go through this process together. The session times (two per month) will be chosen based on what works for everyone in the group after applicants have been selected. a note on the program
I am not a professional mental health worker. 
In this program I am not acting as an instructor or therapist, but as a peer. 
I hope that your knowledge of resources pertaining to emotional health will grow considerably during the program. I'll be sharing introductory information about a variety of principles / methods / tools that I've learned about through independent study. With each new tool or idea, I'll provide resources from professionals so that you can learn more about whatever interests you. 
While I believe that practices we'll experiment with can be useful in healing from traumas / hold-backs, and I will do my best to use trauma-informed care principles, this is not a "recovery" or "therapy" program and should not be relied upon as such. If you are having any symptoms like substance abuse, self-harm, or suicidal ideation, I strongly encourage you to seek the formal support of a therapist or recovery program as soon as possible. I would love to have you in the program and hope it would be of use to you, but I cannot support you in the full way that you need support. 
Emotional healing, intuitive creative expression, and community support have been key interests of mine over the past 10 years and I'm excited to open up a space where we can learn and grow together.
much love,
Hannah